Principle/Vision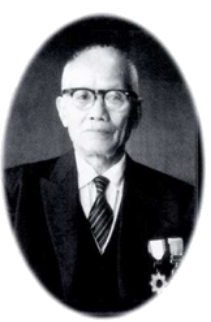 Zentaro Hagihara, Creator of Fuken-go
Two generations ago in the early 1900's at our farm Zentaro Hagihara introduced our own watermelons. While working on improving the farm's management and revenue he keenly felt the necessity for superior cultivars and preserving seed purity. In 1916 he started out in the selective breeding and seed production business. In 1923 he developed the "Fumin-go" seed variety which attracted the attention of the industry. This was the start of him becoming a watermelon breeder.
After that, in order to raise the quality and viability the "Fumin-go" and "Asahi Yamato" lines were crossbred to produce the "Fuken-go" variety in 1937. Through national watermelon taste comparisons the superiority of the "Fuken-go" variety became widely recognized in national schools and distribution circles. In April 1951, "Fuken-go" was honored as the first watermelon seed name to be officially recognized by the Ministry of Agriculture and Forestry and the variety spread throughout the country.
In the same year we formed the Fuken-go Federation with like-minded farmers based on the principle of the direct descent of superior cultivars. Since then, along with our national conference, we have continued to hold our position as a leader in the industry through technological research aimed at stable production of superior products, information exchange with those involved in the marketplace to invigorate sales and information campaigns aimed at the creation of a uniform trademark and the encouragement of greater consumption.